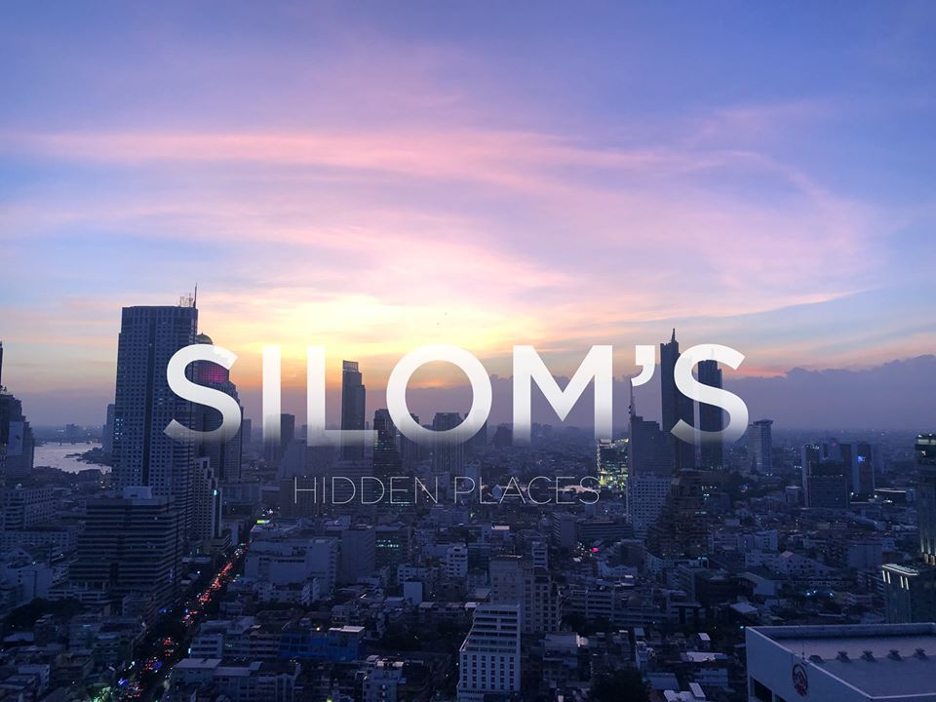 All Blog Articles
Explore Silom's Hidden Gems
October 1, 2020
Posted by: Hotels G
Home to Bangkok's financial centre but also to major cultural and historical sites as well as a plethora of dining and leisure attractions, Silom is one of the city's busiest areas which covers two of its most important roads, Silom and Sathorn. There's plenty to see and do around Silom and we highly recommend checking out these spots, which are all within easy reach from Pullman Bangkok Hotel G:

Get your camera ready to explore and capture the beauty of lesser-known instagrammable gems in Bangkok's Silom district. Taking the skytrain is your best bet to beat the crazy Bangkok traffic! Luckily, Pullman Bangkok Hotel G is located just a 5-minute walk away from the Chong Nonsi BTS station. Along the way, you'll notice some cool buildings that make for the perfect insta-ready backdrop. Don't miss out on a chance to take a few street photographs.
Sri Mariamman Hindu Temple
A not-to-be missed highlight in Silom is the Sri Mariamman Hindu Temple, also referred to by locals as 'Wat Khaek'. The colourful and incredibly detailed temple with over 100 years of history is inspired by the ancient arts of Southern India.

Kathmandu Photo Gallery (closed for renovation until Oct 31, 2020)
Not known to many but definitely a spot worth checking out is the Kathmandu Photo Gallery, located in a restored pre-war shophouse. The bright-coloured structure is so beautiful that one cannot help but snap away. Don't forget to bring home some noteworthy works from the numerous local artists…who knows, they may be worth millions one day!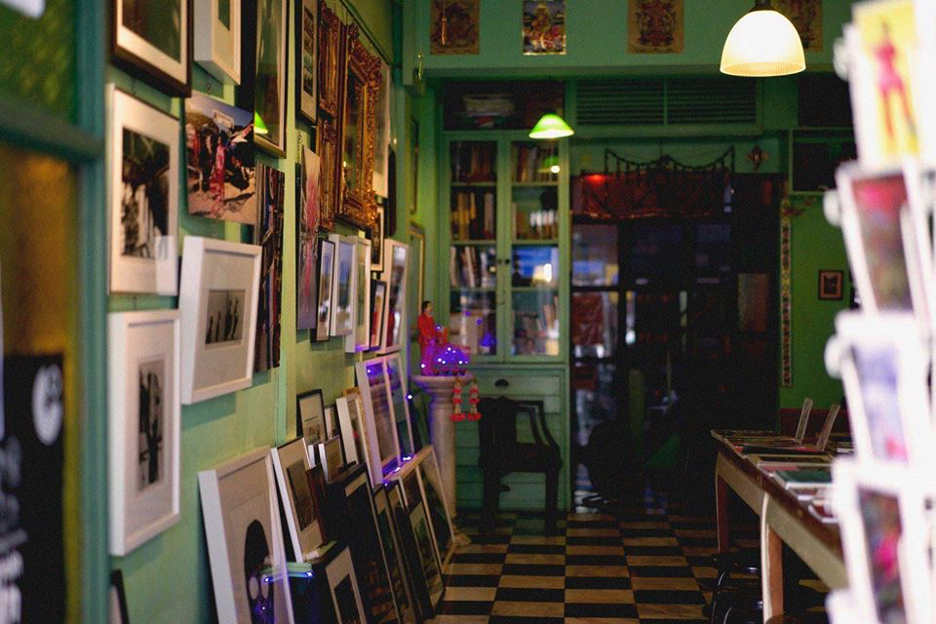 Mural by Motomichi Nakamura
Mural paintings or street art can be found at many spots throughout Bangkok city. One of the more famous mural art masterpieces is located on Decho Road, just near Pullman Bangkok Hotel G. It was created by Japanese artist Motomichi Nakamura. Pull out your camera, get the angle right and snap away!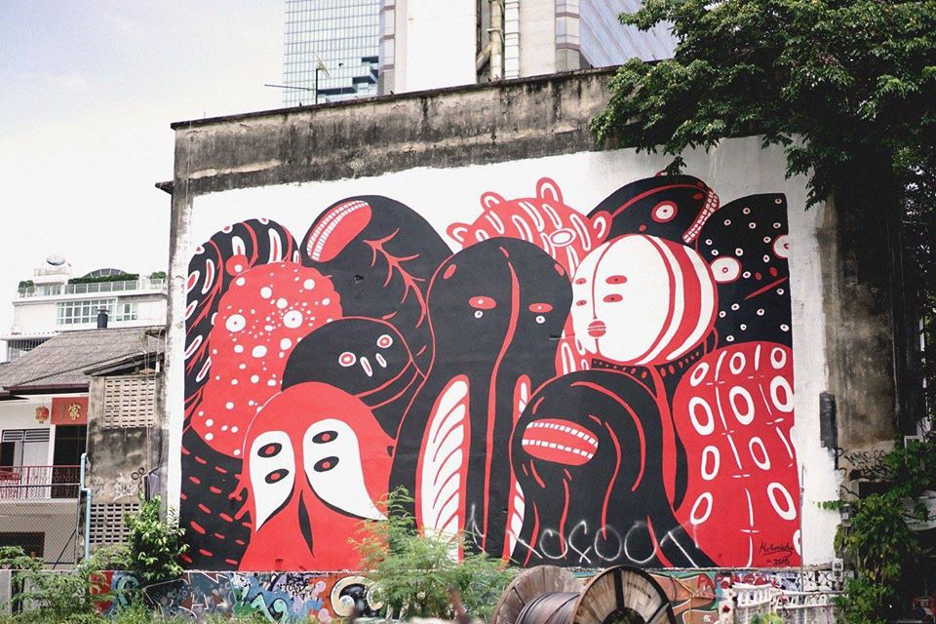 Neilson Hays Library
Just a short 7-minute walk away from Pullman Bangkok Hotel G, discover another hidden gem and unmissable landmark with over 140 years of history: the Neilson Hays Library. With its gorgeous neoclassical architecture, it is without a doubt one of the best places to have a pleasant afternoon stroll and take interesting photos in Bangkok.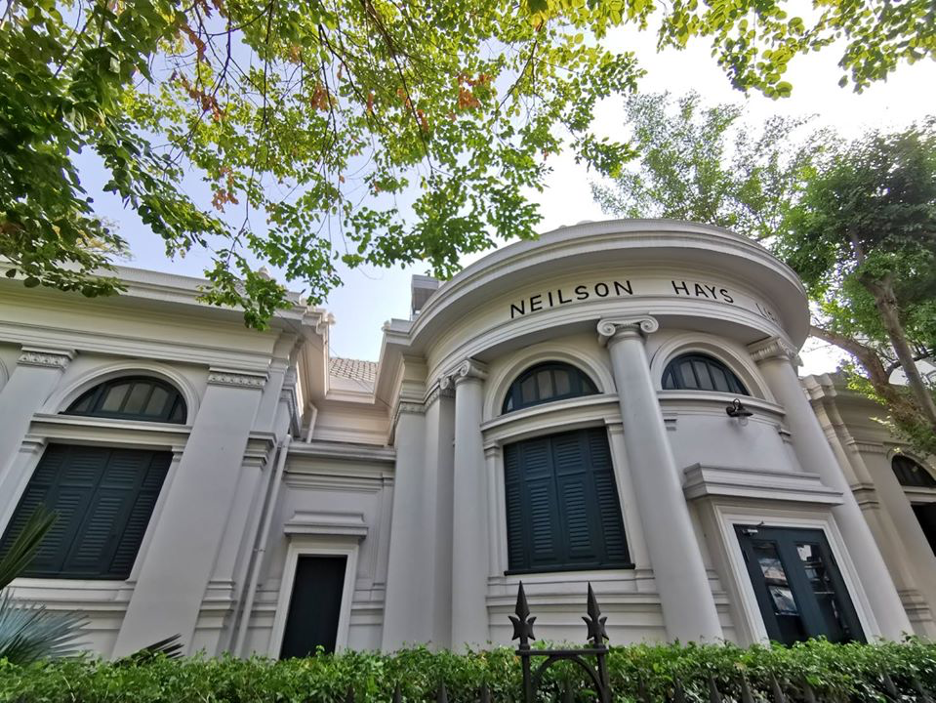 Lumphini Park
A not-to-be missed highlight in Silom is Lumphini Park, located just 20 minutes walk from Pullman Bangkok Hotel G. This green oasis offers a quiet respite when you want to escape from the city's hustle and bustle. As one of the city's largest green spaces, it boasts a few lakes and walking tracks, perfect for a relaxing stroll or a jog. You can also opt for cycling around the park, or even paddle boating!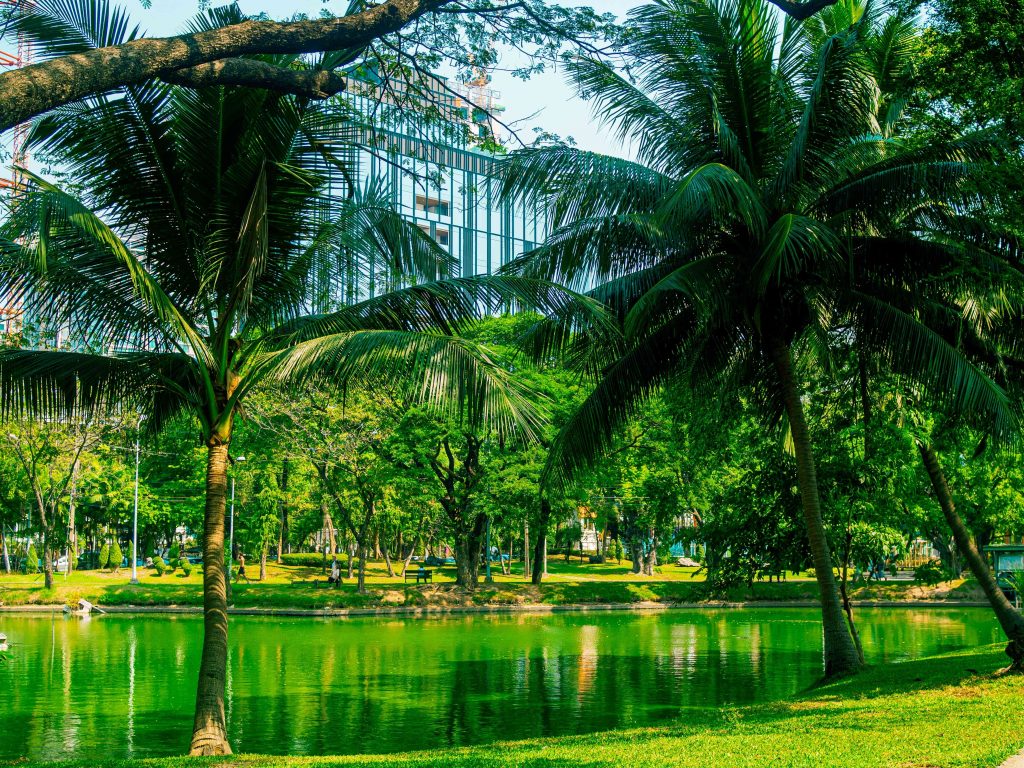 Lalai Sap Market
Lalai Sap Market is a hidden shopping landmark, well-known to locals but off the beaten path. This bazaar is tucked in Silom's little back alleys, forming an eclectic maze of shophouses and boutiques as well as street stalls, mini-malls and food courts brimming with tasty Thai food. Here you won't find any touristic souvenirs or trinkets, but you will gain a unique insight into Bangkokians' daily lives. Pro tip: to see this market when it's most alive, go on a weekday around lunchtime or early afternoon, this is when it gets very busy as it fills up with local office workers. Important to know: it's only open on weekdays. To get there, head to Silom Road Soi 5 – next to Bangkok Bank Head Office. It's a short 10-minute walk away from Pullman Bangkok Hotel G!
Rooftop Bar
Tired of all that walking? Well there's still one more pitstop you should take. After all, your day would not be complete without catching a skyline sunset right here in Silom. Head to the 37th floor of Pullman Bangkok Hotel G to be amazed by the sky-high glistening backdrop. Scarlett Wine Bar and Restaurant's rooftop terrace is not just super 'gram-worthy, but also one of the best spots in town to relax, mingle, and enjoy breathtaking panoramic views.
Once you're done exploring, it's time to get some rest! Pullman Bangkok Hotel G is located in the heart of Silom, making it a great home base to visit this neighbourhood. Boasting a contemporary minimal decor, the rooms are as comfy as they are stylish. Enjoy better rates when you book directly with us and end your day with a restful night's sleep.