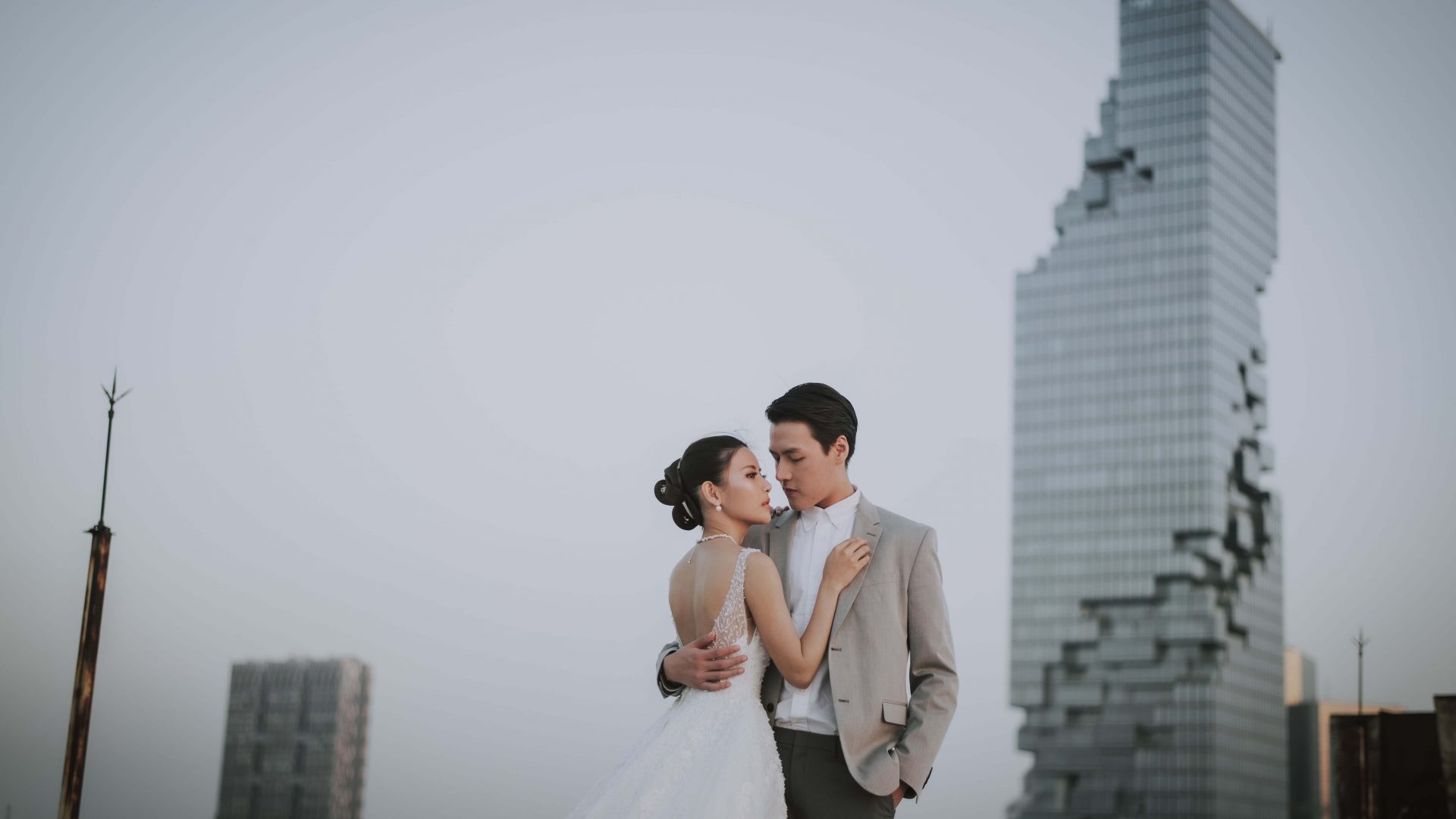 All Blog Articles
6 Inspiring Pre-Wedding Locations in Bangkok
June 30, 2021
Posted by: Hotels G
Why are pre-wedding photoshoots so important? Being an integral part of the Wedding adventure, the pre-wedding photo shooting is an innovative way to ensure your wedding album is perfect. Furthermore, getting used to the camera and your photographer or feeling comfortable with posing – which will be required on your wedding day - does not always come easy. This is why organizing your pre-wedding photoshoot a few months ahead of your big day offers you the possibility to do all the above while capturing a romantic set of photographs that will last a lifetime.
To give you some ideas, Pullman Bangkok Hotel G has prepared a list of 6 inspiring wedding photoshoot locations in Bangkok to capture loving memories, all with stunning backdrops. Read on to learn more.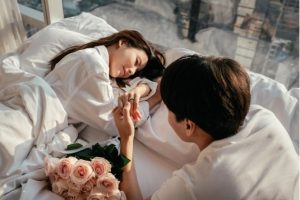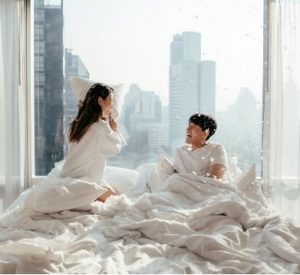 1. G Deluxe at Pullman Bangkok Hotel G
What better way to start the day than in a soft and comfortable bed? Picture soft rays of morning sunlight, Bangkok's skyline views and waking up to find your loved one lying next to you and ready to surprise you with a bouquet of flowers or engagement ring. Or would you prefer a cute & fun pillow fight? Bring it on, Pullman Bangkok Hotel G's signature all-white Deluxe room offers the perfect atmosphere to create the most romantic moods with an abundance of natural daylight, incredible views of the city in a minimalistic room décor that give you plenty of room (pun intended) to decorate to your liking.
❤️ 📸 Location: Room G Deluxe, City View side, Pullman Bangkok Hotel G (Silom)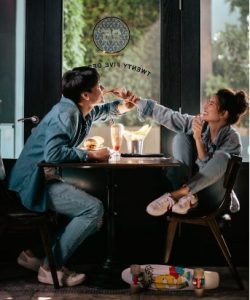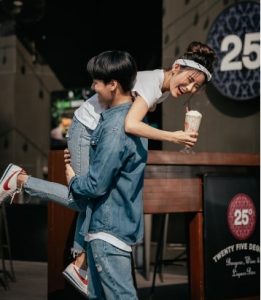 2. 25 Degrees Burger Bar
Is she the fries to your burger? Well, then you have found the right place. 25 Degrees is your casual American diner-style burger bar with a vintage feel and is the only place you can play with your food, but shhhh, this stays between us. From sipping on yummy milkshakes at the bar sitting atop red vintage stools to casually enjoy juicy burgers, at 25 Degrees you can let go of the stiffness that comes with posing. Instead, take the opportunity to have fun by capturing amazing moments in a relaxed yet trendy setting while enjoying authentic American burgers. Whether you're in the mood to wear your favourite pair of jeans or dress up with cute retro attire, we promise that you'll be in for a lot of fun!
❤️ 📸 : 25 Degrees Burger Bar, G Floor, Pullman Bangkok Hotel G (Silom)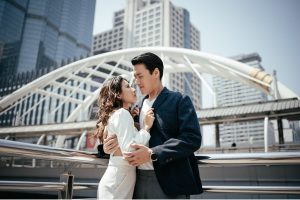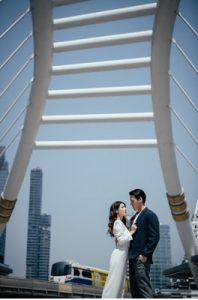 3. Sathorn Bridge
Head to Sathorn Bridge near the BTS Chong Nonsi skytrain station. A short distance from Pullman G Silom Hotel, be ready to shoot at this one-of-a-kind cityscape venue overlooking the intersection between Sathorn and Narathiwas roads amidst the tall and modern buildings. The Bridge offers a modern feel with a high arched structure offering a dramatic city backdrop.
We would suggest you to head there from 10 o'clock onwards on a weekend or public holiday since it is located the business district, unless you don't mind an audience 😉
❤️ 📸 Accessible from Chong Nonsi BTS Station 10-minute walk from Pullman Bangkok Hotel G (Silom)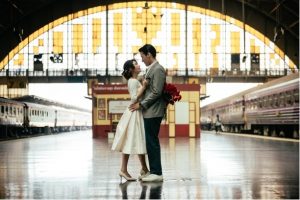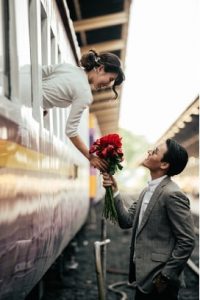 4. Hua Lomphong Railway Station
Change your look one more time and travel back in time to a retro period and propose amidst train travelers, definitely a scene worthy of an 80's romantic movie. Forget dramatic and teary separations and write your own movie-worthy story to be of a romantic reunion or better yet, the beginning of a journey of love and dedication together.
Since Hua Lomphong Railway Station is a government office, should you wish to have your pre-wedding photoshoot there, we strongly recommend you to seek the authorization from their staff first. They were very kind and facilitated us throughout the shooting. What an incredible place to capture love!
❤️ 📸 Hua Lomphong Railway Station 10 minutes from Pullman Bangkok Hotel G (Silom)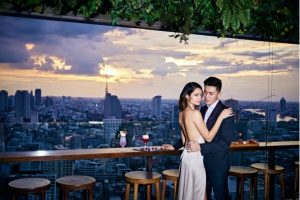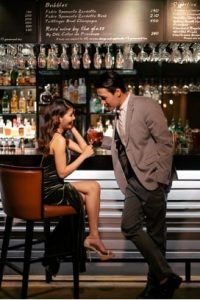 5. Scarlett Wine Bar & Restaurant
Now, let's rewind and go back in time to your first date or that specific time in this amazing restaurant & bar where you talked for hours while sipping on wine and did not want the evening to come to an end.
Scarlett Wine Bar & Restaurant, perched on the 37th floor of Pullman Bangkok Hotel G is not only famed for its food and extensive wine list, but also the intimate and elegant atmosphere, incredible sunset views, French vibes, well you got the gist. If you are looking for a venue to re-enact THE date that changed your life, Scarlett is definitely the right place. Did we mention the open-air terrace and the panoramic views?
❤️ 📸 : Scarlett Wine Bar & Restaurant, 37th Floor, Pullman Bangkok Hotel G (Silom)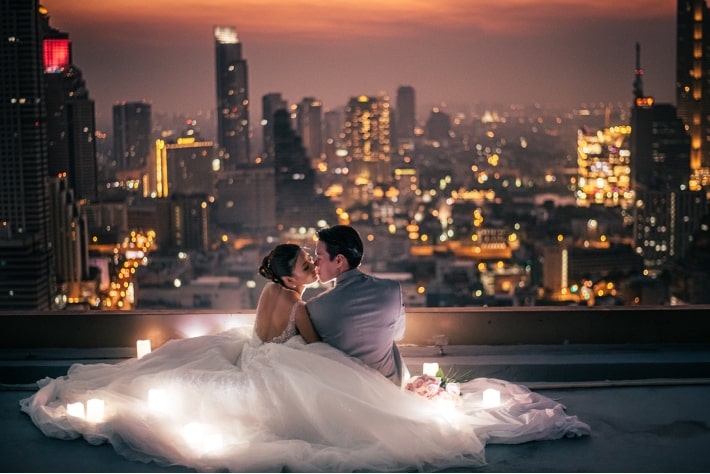 6. Pullman Bangkok Hotel G's Rooftop
Last but certainly not least on our list of ideas for your wedding photoshoot in Bangkok is THE ultimate pre-wedding venue in the heart of Bangkok on the 39th floor at Pullman Bangkok Hotel G. Dramatic skyline, incredible sunset colours, views over Bangkok city, there is no doubt that a rooftop shot is a must-have in your album of eternal love and 'happily ever after'. Imagine the exhilarating sensation of being on top of the world (or close enough), the city lights akin to a starry night, and of course, witnessing all this with your beloved…. Well, we can guarantee you that anyone standing in this very spot finds it difficult to turn away from the views; perhaps a sign that you won't be able to turn ever turn away from your true love either? (wink)
❤️ 📸 Rooftop view in the heart of Bangkok at Pullman Bangkok Hotel G (Silom)
Inspired for your pre-wedding photoshoot in Bangkok? Check out our Pre-Wedding Photo Shooting package here and our very exclusive offer for the month of July 2021 – get a FREE engagement ceremony, yes, you've read it right – by viewing it here.
For more information and details, feel free to reach out to our wedding specialist at [email protected] or call 0 2352 4000 ext.1430.