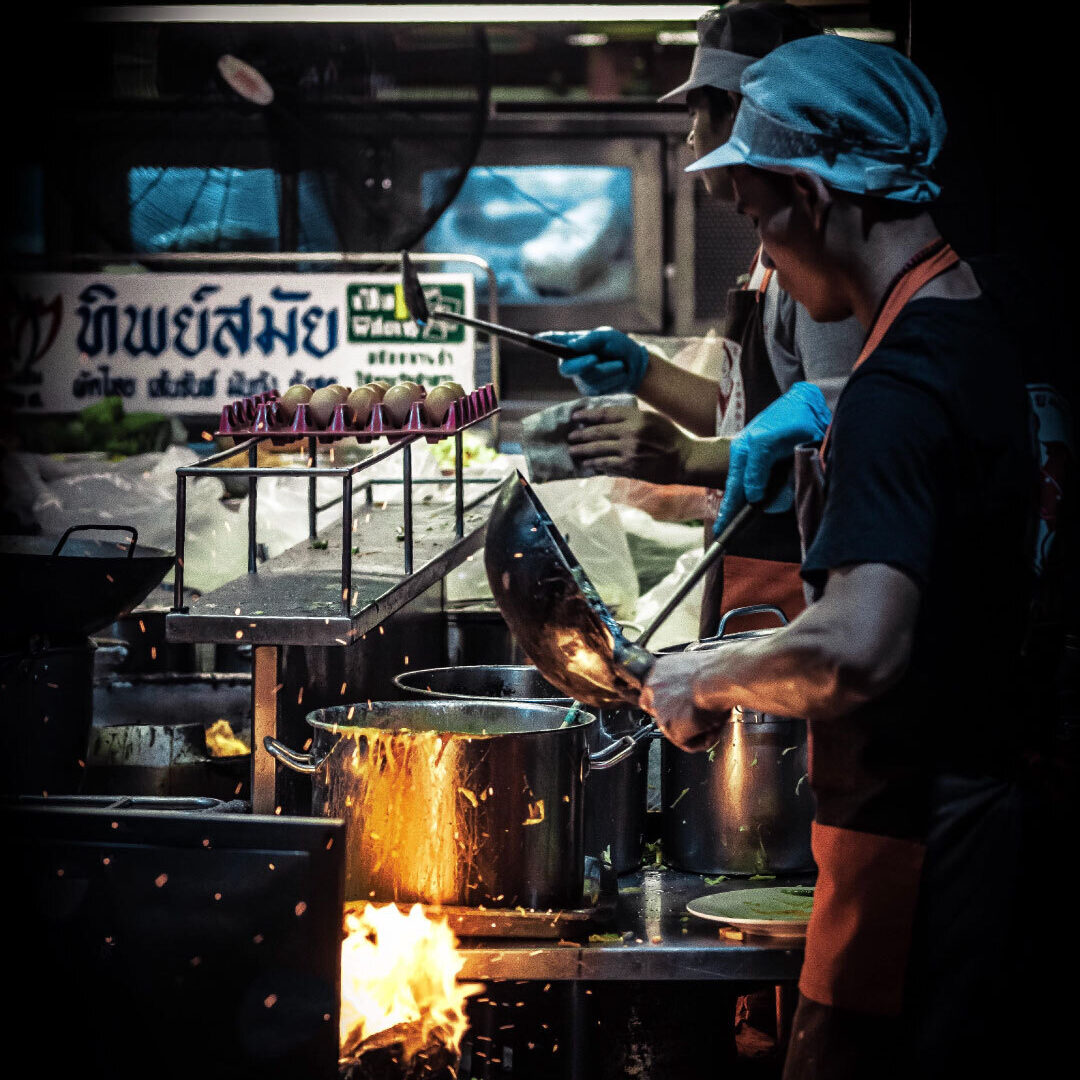 All Blog Articles
Cheap Eats and Street Food Spots in Bangkok
September 6, 2022
Posted by: Hotels G
Eager to experience local street food and explore casual eateries on foot from Pullman Bangkok Hotel G? We are here to enlighten you on the best cheap eats around the hotel and further afar. Here's our top 10 recommendations of where to feast on a budget.
Whether it's your first time traveling to Bangkok, or you're here to stay for a while, here are our favourite foodie spots, ranging from widely acclaimed street foods stalls that are within walking distance of Pullman Bangkok Hotel G, to longstanding culinary institutions where you can immerse yourself in the rich and vibrant culture and experience the unique pulse of Bangkok with the locals.
Why do we love Bangkok's street food so much? On top of being cheap and convenient, it's a great way to experience the local culture by trying delicious traditional homemade meals.
Whilst exploring Bangkok, you will come across plenty of street food stalls and small casual eateries. How to know if they are worth trying? Check how busy they are of course, but also, another good indicator is that they are frequented by locals mostly. Pro tip: most Thais tend to like their meals extremely spicy, so even if you think you can handle it, err on the side of caution and order your food with little or no spice.

Silom 10 Food Court
It's safe to say that Thais love to eat, and when it comes to lunch, they usually head to a food court. If you happen to be in the neighbourhood, you may not find more locals in one place than at Silom 10 Food Court during lunch hour. One of the largest food courts in the Silom area, just a 5-minute walk from the hotel, it gives you access to a huge selection of typical dishes.

Sortrel
One of the most popular eateries in the Sathorn district since the 2000s, this is one of the best places to enjoy a wide range of delicious Thai food at an affordable price. A large open space offers a relaxing atmosphere in the Beer Garden, where you can hear live acoustic music and find many Thai people after work.
Photo credits: Sortrel official Facebook page
Kha Mu Charoensang Silom 
Located on Silom Road, in the alley opposite State Tower, Kha Mu Silom has been serving stewed pork shanks since 1959. What sets this store apart from hundreds of others is its melting, caramelized pork in a rich, aromatic Chinese herb sauce, served with their homemade spicy sauce and pickles. It's also great value for money; you can get a full, tasty meal at pocket-friendly price. Within 15 minutes of the hotel, you can find this street food spot that was included in the Michelin Guide Bangkok in 2018 and 2019.

Thipsamai Padthai Pratoopee
Though it has become a famous Thai dish worldwide, Pad Thai actually has a fairly recent history. It was first created during World War II at a time when Thailand suffered a rice shortage. Due to the high cost of rice production, the prime minister encouraged people to eat noodles instead. Thipsamai Padthai Pratoopee is the oldest Pad Thai restaurant in Thailand and has earned its legendary reputation by serving up authentic, tasty Padthai ever since then. The long line of eager customers outside the door speaks for itself!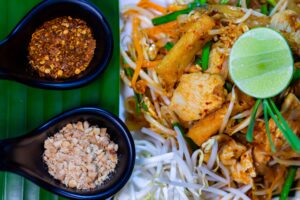 Jay Fai
By far the most acclaimed street food spot in Bangkok – the infamous Jay Fai, aka Supinya Junsuta, better known as Jay Fai, has found fame by receiving a Michelin star two years in a row in 2018 and 2019, but the spunky 70-plus-year-old continues to personally cook every dish at her stall in Bangkok. With her expert wok maneuver and her signature goggles, she has become a Bangkok legend and proudly continues what her father started 70 years ago. The top four dishes you can't miss are: Crab Omelette, Drunken Noodles, Tom Yum Soup, and Yellow Crab Curry.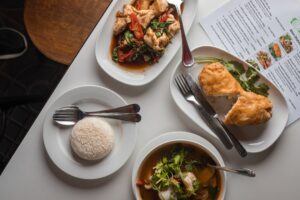 Photo Credits: Asia's 50 Best Restaurants
Somjai Boat Noodle
Established for 40 years, passing through 3 generations, Somjai Boat Noodle makes the best boat noodles and duck noodles. The name 'boat noodle' derives from the many food vendors who used to prepare and sell lunch from boats in the canals and rivers of Thailand, giving rise to this famous and beloved dish, which is basically a beef or pork and rice noodle soup with a rich, aromatic spicy broth.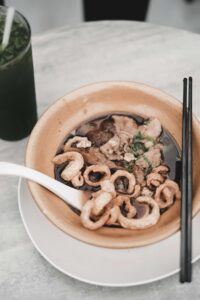 China Town (Yaowarat)
Impossible to forget about the iconic street food scene of Bangkok's China Town, where you can try everything from Toasted Buns to uber-fresh seafood, "kuay jab" (peppery soup with rolled rice noodles) and more. When night falls, the streets of Chinatown, more specifically Yaowarat, light up and are lined up with street stalls that serve delicious dishes of all kinds. For those with a sweet tooth, Yaowarat Delicious Bread ranks on top of the list of all dessert stalls here – this place serves fluffy grilled bread that comes stuffed to the brim with fillings so satisfying, that you can't help but to order more than one.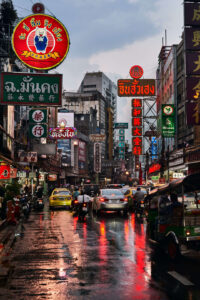 Yong He Dou Jiang
Founded in 1999, Yong He Dou Jiang is famous for its authentic soy milk and Taiwanese food staples, including spicy beef noodle soup, xiao long bao, crispy pan-fried dumplings, and fried rice with egg and XO sauce. Just a 5-minute walk from the Pullman G Hotel, it's perfect for when you want a casual feast on a budget! Don't miss their soy milk – made purely from soybeans, with no added starch, it's available in 2 flavours: original and black sesame soy milk.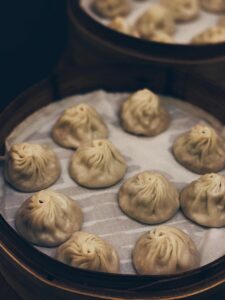 Mango Sticky Rice
Not a place but a dish – no trip to Bangkok would be complete without a stop for a traditional combo of sweet, ripe mango and savory, coconut-flavored sticky rice. Ask anyone in the world about Thai cuisine, and the conversation is likely to turn to the kingdom's ripe mangoes: aromatic and golden, likely paired with a mound of sticky rice topped with coconut cream. Indeed, the local dessert "khao niew mamuang" now enjoys global popularity, in keeping with mangoes' reputation as the most sought-after fruit in the world.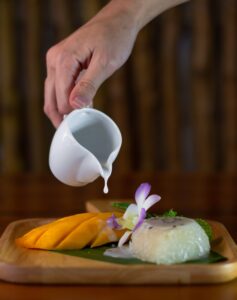 Though Late March through July is the peak season for mangoes in Thailand, they can easily be found – and enjoyed! – all year round. One of the best places you can get mango sticky rice is at Mae Varee's Fruit Shop in Thonglor. This shop has been around for about 20 years and their mango sticky rice always hits the spot! The mangoes used are of excellent quality with just the right sweetness and juiciness.
Note: they only do take away.
If all this hasn't got you craving authentic Thai food yet, nothing else will! If you've got your sights set on the Big Mango for your next foodie trip, make sure to check out Pullman Bangkok Hotel G's Unpeel the Big Mango package, inclusive of local mango treats for you to snack on and sweeten your stay! Get all the details here.