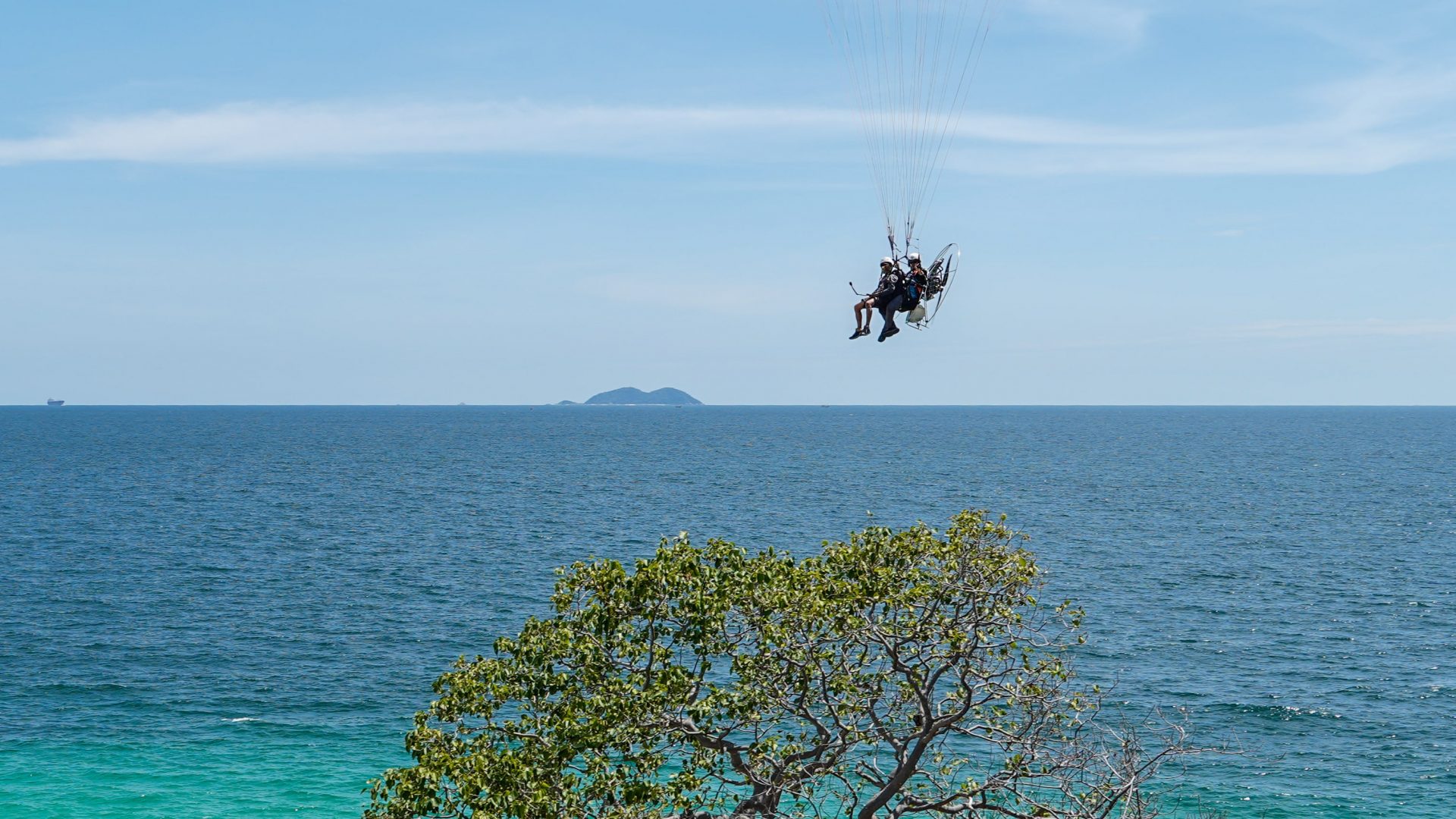 All Blog Articles
A Day in Pattaya
October 16, 2020
Posted by: Hotels G
Despite its reputation of being a nightlife destination, Pattaya has a lot more to offer for families and couples as well. There is something for everyone, from nature lovers to watersports enthusiasts. If you are planning a Pattaya trip, there's no shortage of sightseeing, chilling, adventurous and cultural activities for you to check out and take part in. Amongst the many options available to you, these are some of our recommendations, for once-in-a-lifetime experiences just a short drive away from Bangkok!
With its powdery white sand and transparent blue waters, Koh Larn or Coral island is one of the most popular islands near Pattaya. Coral-spotting in glass-bottom boats, snorkeling, swimming, and surfing are some of the fun things to do on this island. Koh Larn also offers a range of exhilarating watersports like windsurfing, parasailing, and jet-skiing.
How to get there: Head down to Pattaya's Bali Hai Pier, by car or local shuttle 'songtaew' transport.
Upon arriving at the pier, there are two choices of transport
1) Public boat which costs THB 30 per person and takes about 40-50 minutes to get to the port town (Nabaan Pier) in Koh Larn,
2) Speedboat: takes approximately 15 minutes from Bali Hai pier to Koh Larn. (for price enquiries, please contact the speedboat agency directly at the pier).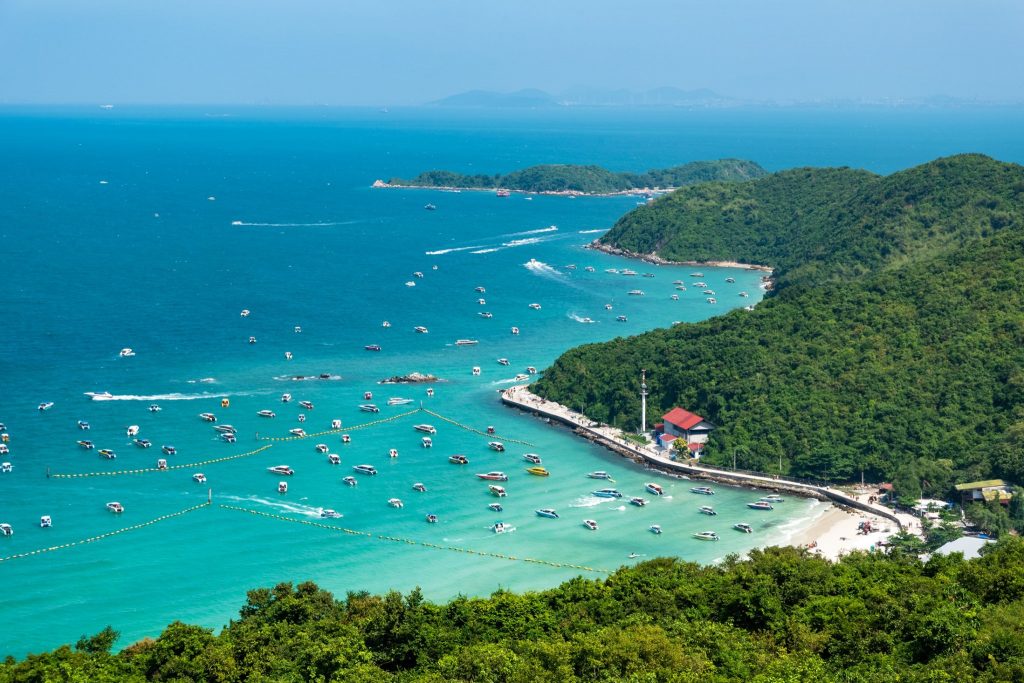 Our favorite activity to do there? Paragliding! Get your blood pumping and adrenaline rushing with a memorable paragliding session over Koh Larn. Just picture yourself soaring in the air, flying above all those breathtaking views of the crystal-clear turquoise waters of the Gulf of Thailand and the white sand stretching along the coastline. Top tip: high season (November to April) is the best time to visit since you won't need to worry about rain!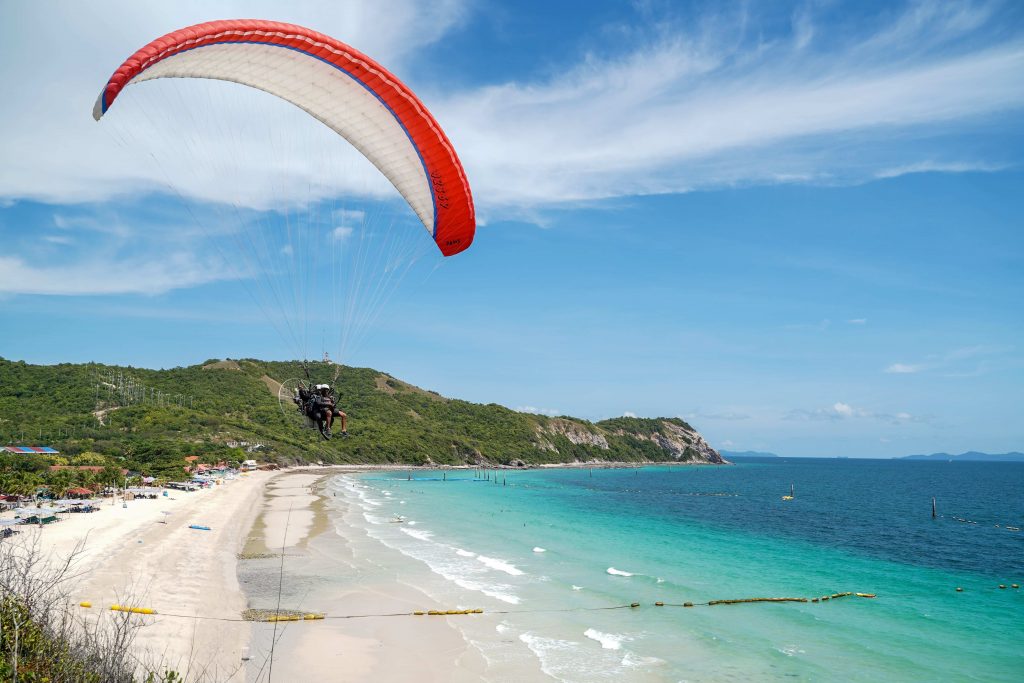 Image Credit: Flykohlarn
Discover an intriguing fusion of art and religion at the Sanctuary of Truth. The Sanctuary of Truth is a wooden temple-like modern construction in Pattaya. About 105 metres high, this one-of-a-kind impressive structure is a must-see attraction. Blending creativity, culture, philosophy, and spirituality, the Sanctuary of Truth features intricate wooden carvings and although it is incomplete, it stands as a shining example of Thai craftsmanship.
How to get there: If it's your first time visiting, we highly encourage to have your GPS on for this attraction. It's approximately 2.5 km away from Pullman Pattaya Hotel G and can be accessed by car or on foot.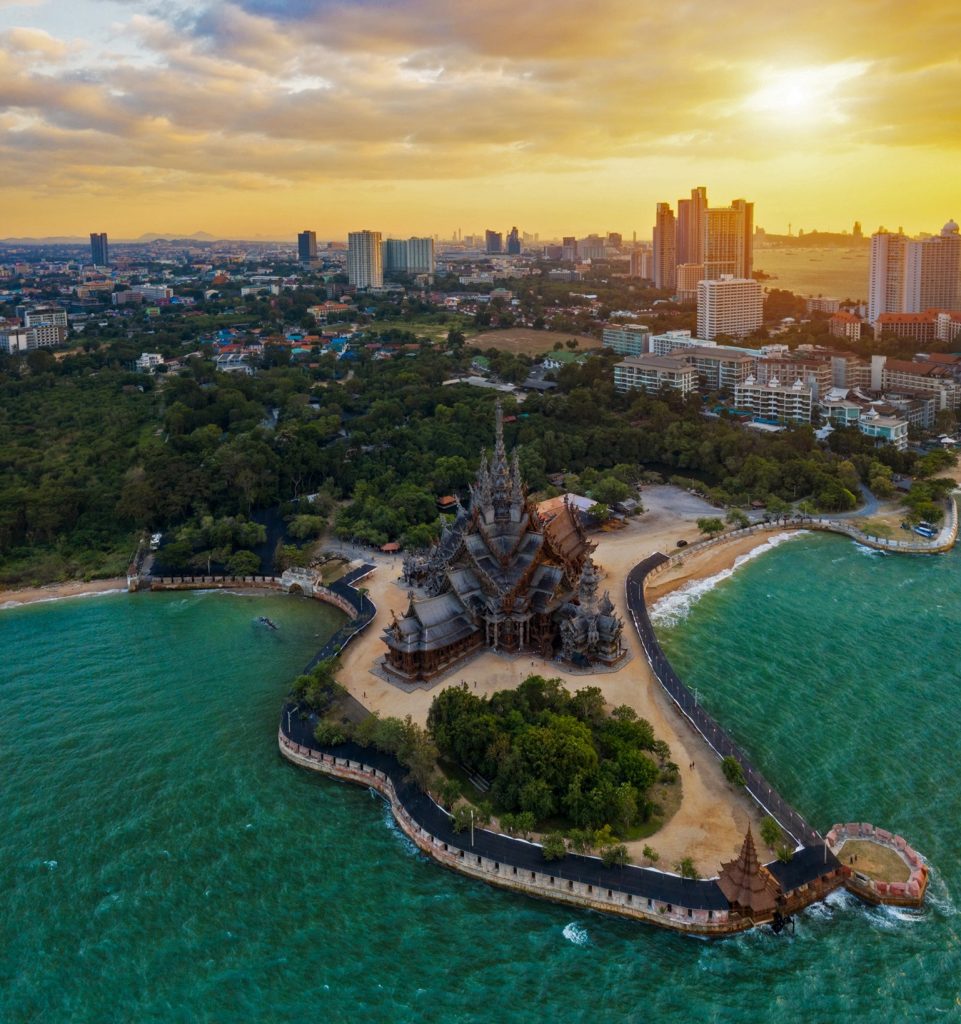 Dreaming of a beach vacation with the famous and adorable swimming pigs in the Bahamas or Samui? You don't have to go that far as Koh Phai near Pattaya can also fulfill your travel wanderlust! With clear blue skies, turquoise waters, and a white sandy beach, Bamboo island is full of picturesque spots including the stunning Blue beach, where you can meet the cutest miniature pigs that are ready to swim with you!
How to get there: Take a speedboat from Pattaya city for around 40 minutes to Koh Phai island.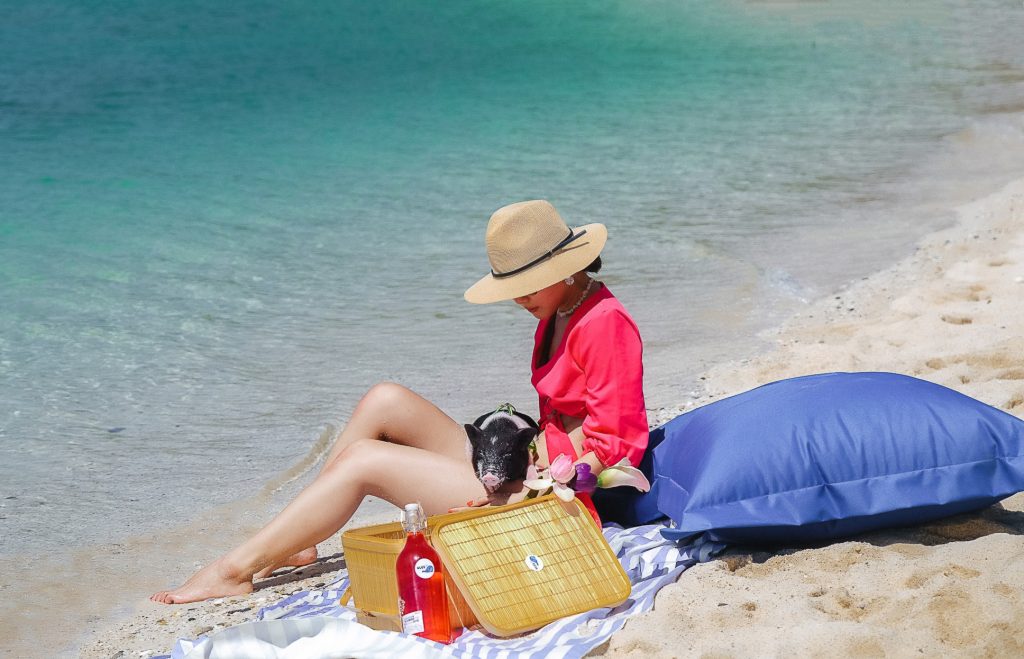 Image Credit: Kon Thai Traveller
Wander around this sprawling botanical garden full of blooming flowers and well-kept greenery to relax and get back to nature during your Pattaya trip. If you're looking for something other than beach activities or nightlife, this is a great place to spend a leisurely afternoon and snap some colorful shots of the different floral species on display.
How to get there: Take the route no.3 by car, the garden is located at kilometer 163 on Sukhumvit Road. It is about 25.9 km away from the hotel or a 40-minute drive away.

An ideal spot for some family fun, Pattaya's only 3D museum is filled with incredible 3D artwork that makes it without a doubt one of the best places to take interesting photos in Pattaya. It provides plenty of opportunities for adults and kids to capture some quirky and playful snapshots of optical illusions.
How to get there: Take our shuttle bus and get off at the Dolphin roundabout, which is just a few minutes' walk away from Second road ('Thanon Second') and look for Sohotown Pattaya. From there, turn left and you'll arrive at Art in Paradise in 20 meters.
Immerse yourself in the beauty of natural landscapes at this hidden gem near Pattaya. If you love scenic road trips, this one's for you. The 1-kilometer road along the side of Bang Phra Reservoir is known to be one of the most romantic countryside drives in Thailand. The flowery route features pastel pink Tabaek blossoms (from the Lagerstroemia species, specifically Lagerstroemia floribunda), which decorate the road with their cotton-candy color petals. The flowers usually start to bloom in January and last until March, creating a charming scenery on Thailand's provincial roads.
How to get there: rent a motorcycle and embark on a picturesque road trip 40km north of Pullman Pattaya Hotel G, in the direction of Si Racha.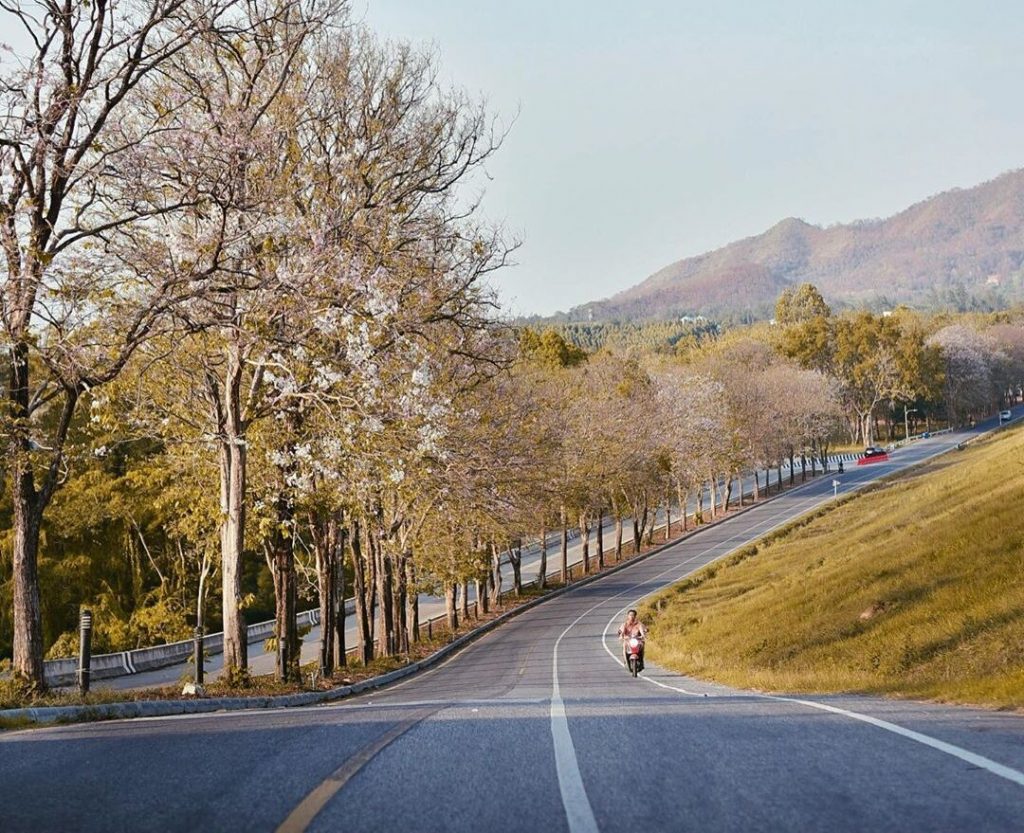 Image Credit: kitvatcha
An unmissable lifestyle destination while in Pattaya is The Beach Club, located at Pullman Pattaya Hotel G. Whether you just want to relax by the pool or take part in watersports activities, The Beach Club Pattaya has it all. Not just a seafront eating joint, The Beach Club also boasts comfy day beds and lively vibes, making it the perfect spot to watch the sun go down after a big day of exploring. Take a dip in the seaside pools, lounge around in the shaded cabanas or swing chairs and admire the incredible sunsets or squeeze in some fitness fun with a session of stand-up paddleboarding. If you get hungry, The Beach Club serves mouthwatering local and international delicacies.
To enjoy special rates and benefits, book directly with us.