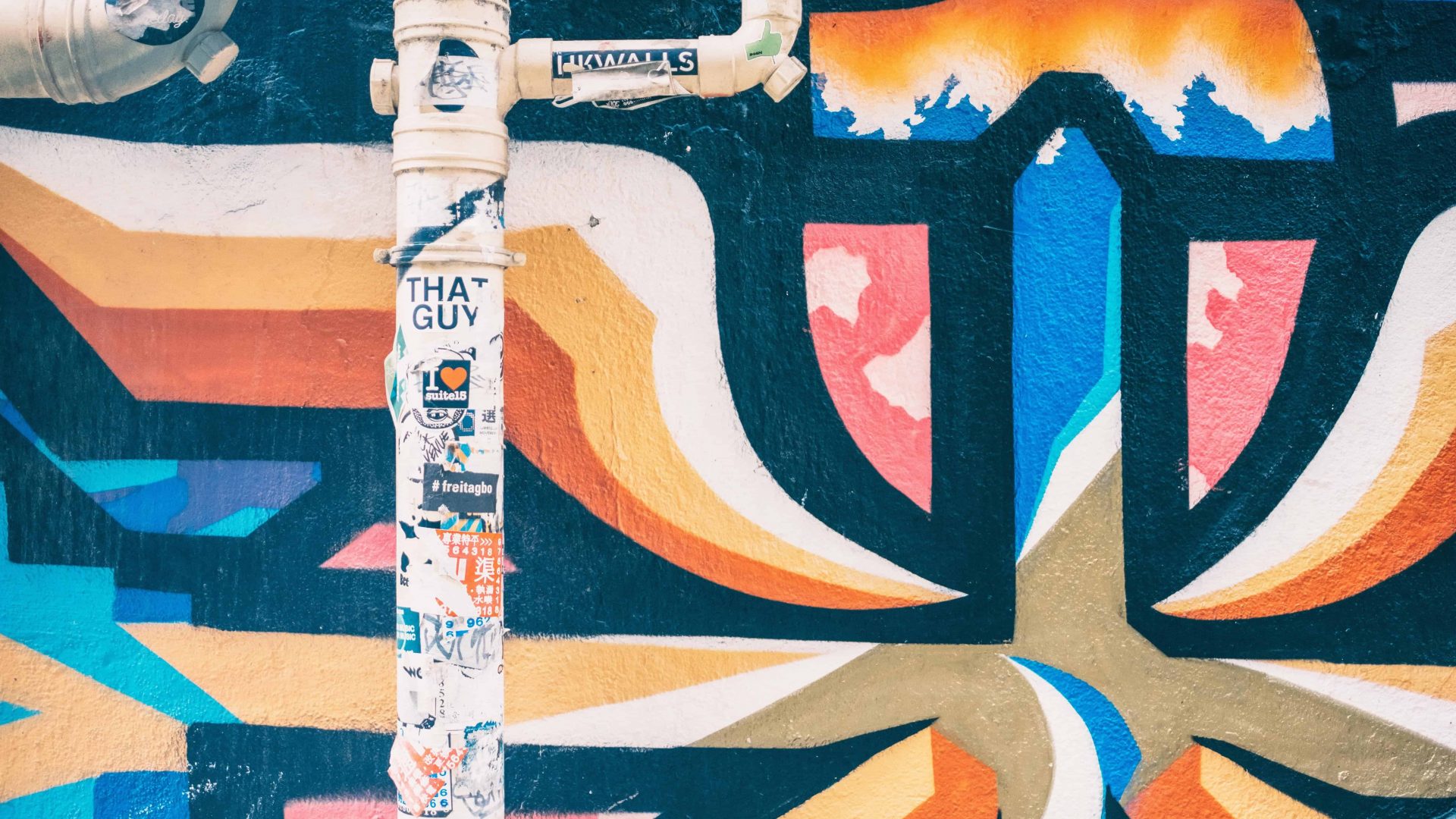 All Blog Articles
Street Art in Hong Kong
March 25, 2021
Posted by: Hotels G
When discovering a new city, there will be millions – literally – of activities to do, restaurants & foods to try, markets and malls to shop at, landmarks to visit, and so much more to experience. While it may be easier to have a must-see list to tick off, we still recommend you take a few hours to simply take a stroll, let yourself be guided by your curiosity or instinct so as to allow you to discover the city in the most unfiltered and authentic way. Who knows, you may come across a pleasant surprise, and even make a discovery you would not have expected!
While you wander about, we invite you to explore Hong Kong's vibrant street art scene and spot the numerous pieces dotting the city, from permanent murals, to building façade paintings, graffitis, and more ephemeral and mutable art installations.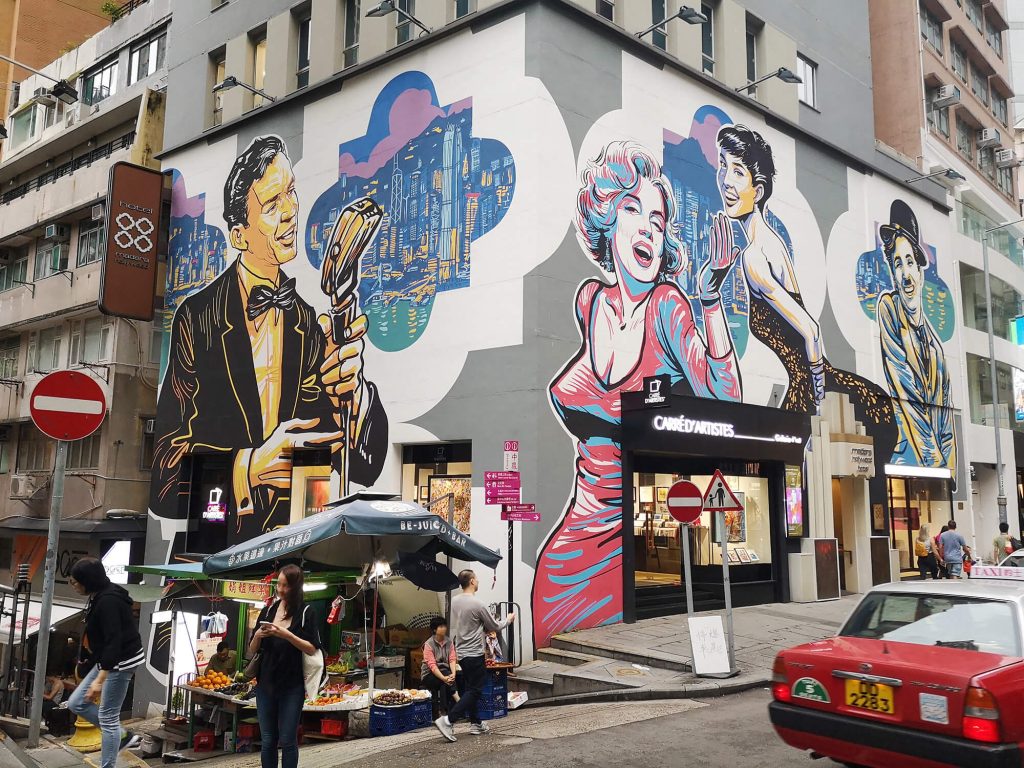 SoHo
SoHo, or South Hollywood road is a zone located in Central Hong Kong bordering Lan Kwai Fong and Sheung Wan. Famed for its many street food stalls, restaurants & bars, mid-levels escalators and much more, SoHo is also home to some of the most recognisable and photographed street arts in Hong Kong. This includes the mural of old townhouses by Local artist Alex Croft, but also the pastel portrait of a woman with a flower headdress against a pink wall, created by local street artist team Elsa Jeandedieu in collaboration with Uma Nota restaurant, and many more.
Tips: If you're looking for design and craft items from independent brands, head to PMQ shopping hub, a nice alternative to Central's luxury malls. Or visit the iconic Man Mo Temple, famed for its cameo appearance in the video game Shenmue II.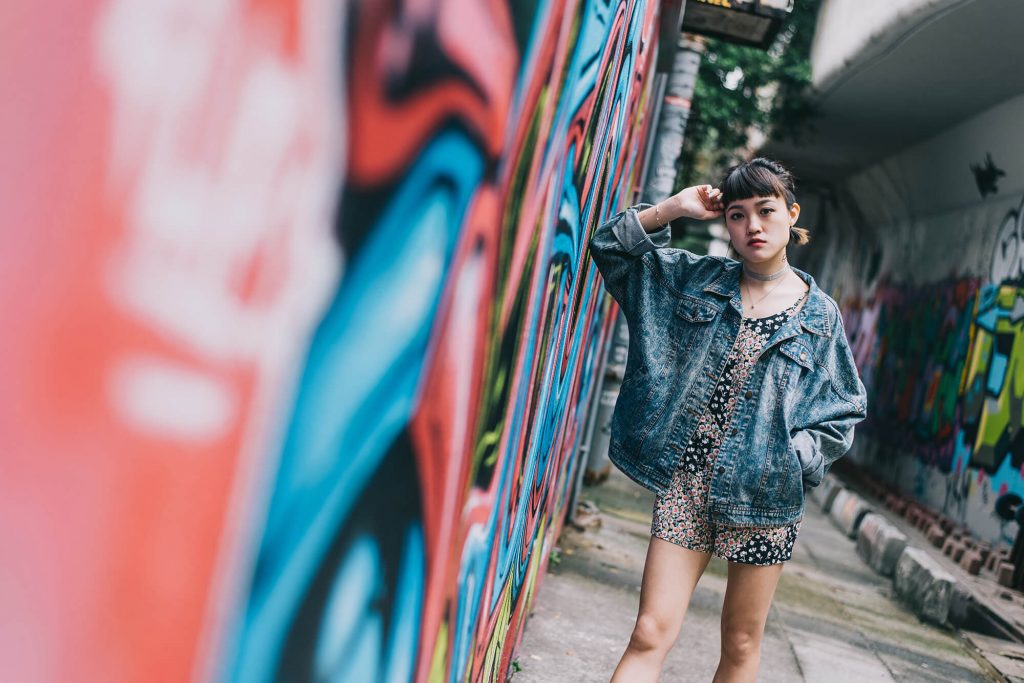 Mongkok's Wall of Fame
The graffiti wall of fame is a wall featuring a huge variety of street art in a secret alleyway hidden away from bustling Argyle Street. This unique wall runs for about two blocks and offers a diverse range of graffitis.
Tips: A little difficult to find, head to 111 Argyle Street, Mongkok, Kowloon then look for the narrow alley hidden just under the escalators going up to MOKO shopping centre, by Mong Kok East MTR Station.
Sai Kung, HKwalls Festival 2021
Many of the street art you may have spotted while in Hong Kong would probably have been created by artists in collaboration with HKwalls art, an NGO aiming to create opportunities for local and international artists to showcase their talent through street art and street culture.
Urban art lovers rejoice, for this 8-16 May 2021, HKwalls annual street art and mural festival will be back and HK Walls artists will be painting again in Sai Kung. From 8 May to 6 June 2021, they will also be hosting their first-ever thematic exhibition titled 'Tools of the Trade' and provide insights about the history of street art and graffiti through the tools artists use to create their work. Don't miss out!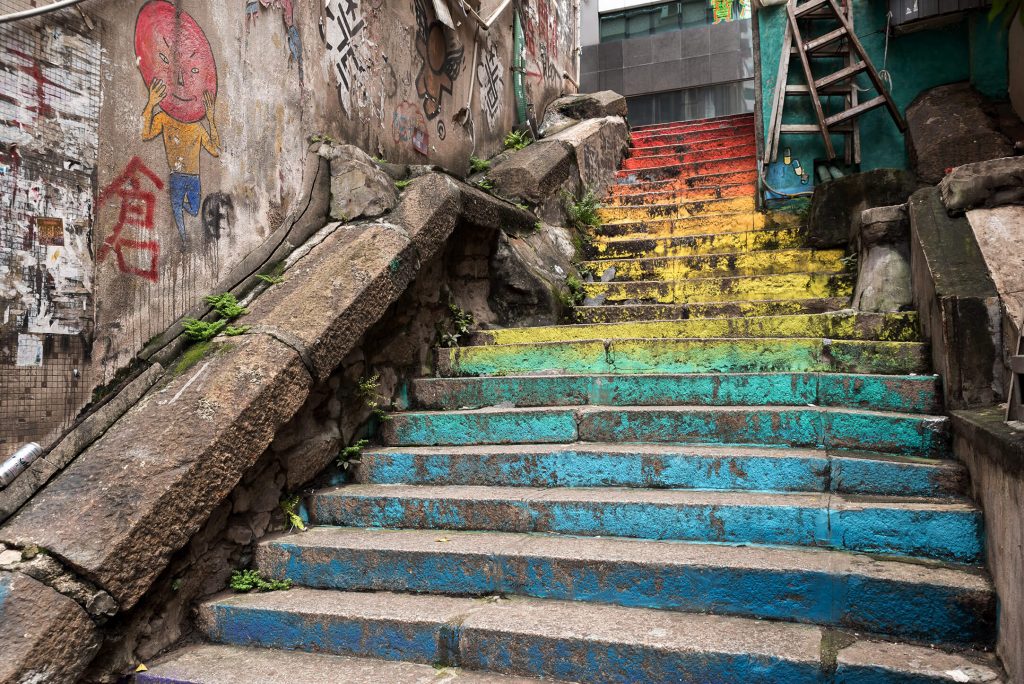 Rainbow staircase
Located in Sheung Wan, right at the junction between Mercer Street and Jervois Street, you'll find this hidden rainbow staircase – which has now mostly faded due to time and the weather. Rumor has it this staircase was painted in support of the LGBT community.
Tips: Aside from this hidden rainbow staircase, there is a plethora of nice restaurants and cafés, vintage clothing stores and other interesting local shops you can visit in the area.

ArtLane in Sai Ying Pun
ArtLane, located on Ki Ling Lane and Chung Ching Street, is comprised of narrow pedestrian streets lined by colourful murals from local artists adorning residential complexes. Commissioned by land developers for a revitalizing project of older buildings, this turned out to be an excellent initiative as it also translates into more beautiful art pieces for us all to admire!
Tips: You can easily access ArtLane by taking the MTR to Sai Ying Pun and B3 exit.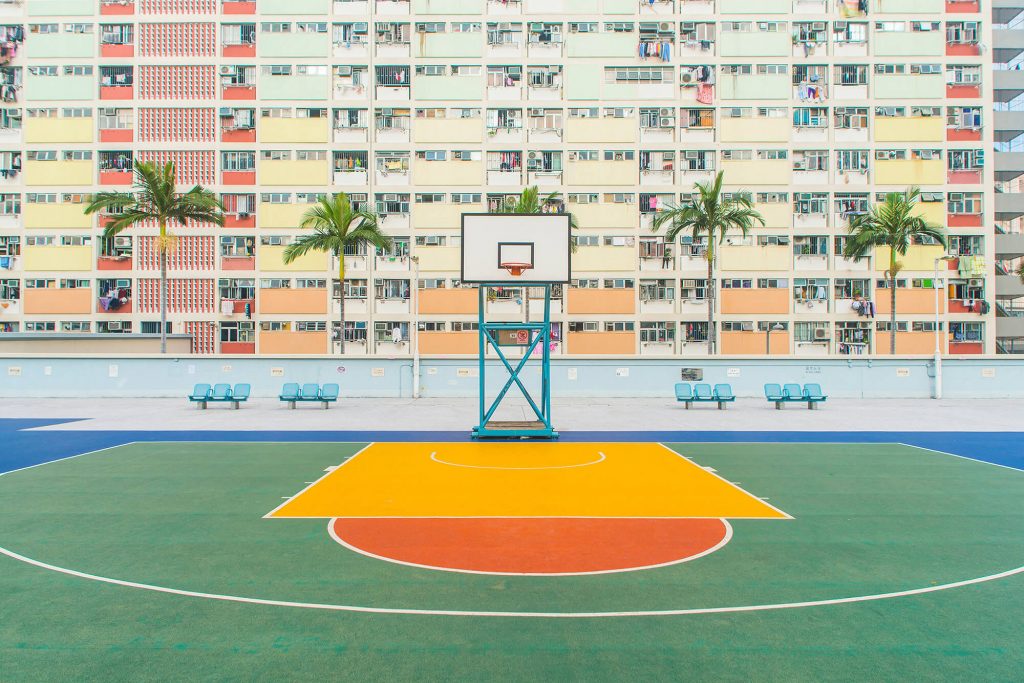 HK's most iconic Buildings
Beyond wall paintings, some residential buildings make amazing photo backdrops due to the uniqueness of their exteriors. One of them is Choi Hung Estate, accessible from Choi Hung MTR station platform, a rainbow-splattered building housing 18,000 people and highly instagrammable due to its iconic pastel-coloured apartment exteriors, palm trees and basketball court.
Another impressive residential building, Man Fung Building located in Sham Shui Po, was painted by Spanish street artist, Okuda San Miguel, during HKWalls annual street art festival in 2016. Covering the entire facade of the building with his iconic multi-coloured geometric patterns, his artwork culminates with the head of a bear at the top of the building.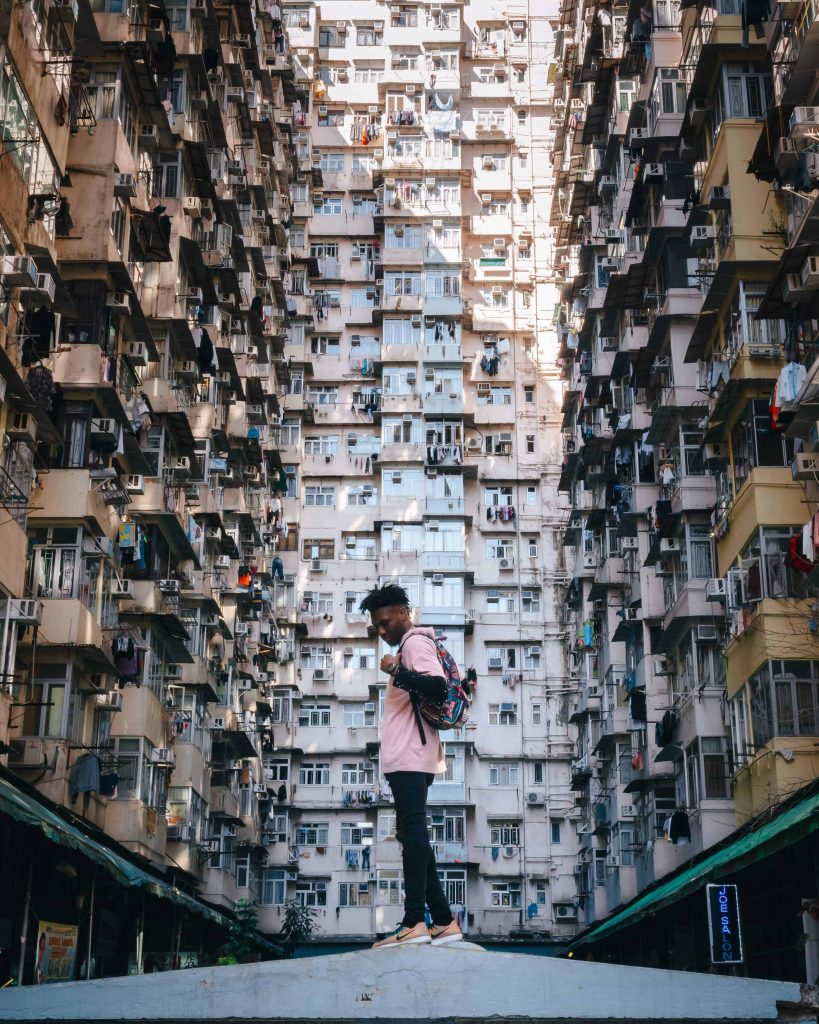 Last but not least, The Monster Building located in Quarry Bay is an E-shaped complex composed of five connecting structures: Oceanic Mansion, Fook Cheong Building, Montane Mansion, Yick Cheong Building, and Yick Fat Building. The latter was featured in Hollywood movie "Transformers: Age of Extinction" and in "Ghost in the Shell", making it the most famous building in Hong Kong.
While this was a brief overview of some of the most amazing street art you can view in Hong Kong, there's so much more to explore and discover. In order to go in-depth and immerse yourself in the rich culinary scene, arts, fashion, music and culture of this bustling city, what's better than indulging in a staycation in the heart of the Pearl of the East?
Until 11 April 2021, elevate your Hong Kong experience with Residence G Hong Kong's Easter package which includes exclusive treats from Scarlett Café & Wine bar, English Tea Shop and Pod Chocolate. To view the full details of the Easter Staycation, click here.