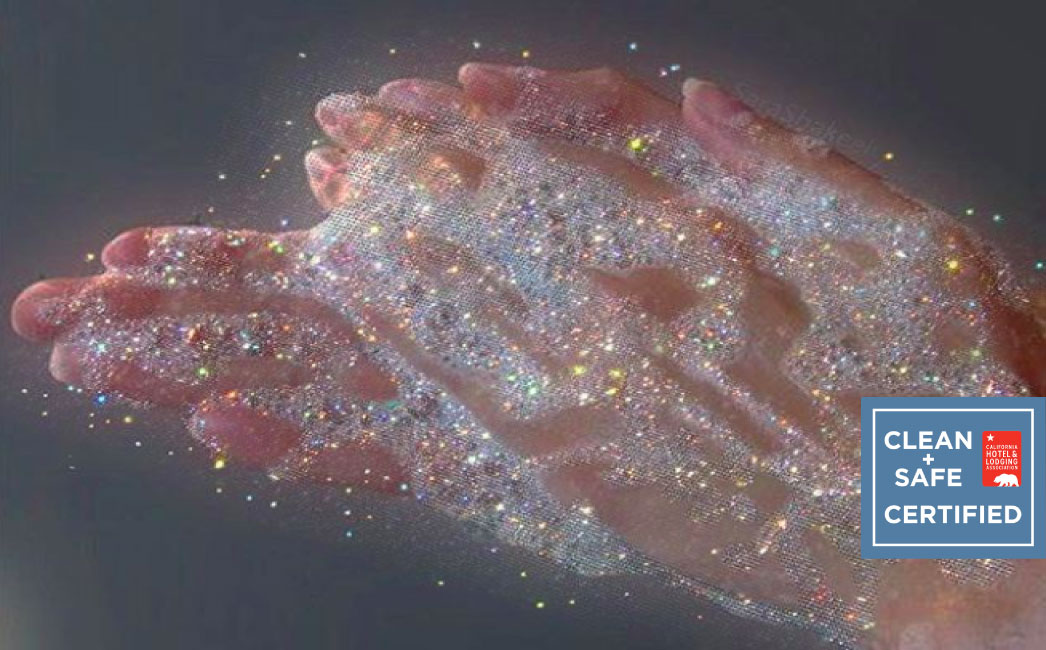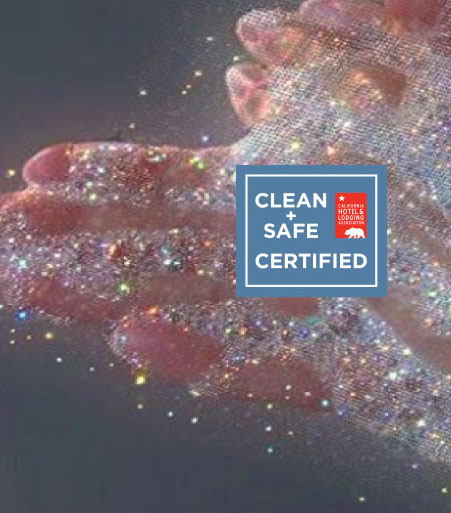 SANITIZED AND SPARKLING TO WELCOME YOU BACK
We cannot wait to welcome you back to your home away from home in San Francisco!
When you feel ready to come pay us a visit, be smart and safe about it. If you're not feeling 100%, please stay home. If you feel something coming on, err on the side of caution and get yourself checked out before you check in. And if you've already booked and come down with something, there won't be any cancellation repercussions. Your health and safety is our #1 priority.
Below we've summarized our Post Covid-19 Health & Safety Plan, with all the key points and information you need for a safe stay. We'll update these procedures as things change and evolve, so be sure to check back here before you check in. 
THE PROCEDURES
//HOW IT'S GONNA GO
Give us your ETA ahead of time, and we'll have your keys waiting for when you arrive so you're good to go

Rooms cleaned, sanitized, and inspected before guest arrival. Once you've checked in, we won't bother you. Rooms will only be serviced upon request by our trained staff following our safety and sanitation protocol, with all the right PPE

Our team will use cleaning products and protocols which align with CDC and US Government guidelines, are approved for use and effectively fight against viruses, bacteria and other air and bloodborne pathogens on all equipment and surfaces, in every space of the hotel

Extra cleaning and sanitizing of public or frequent contact spaces. This includes the front desk, elevators, entrance doors and handrails, and public bathrooms

Our team will continue to explore additional sanitation tools, including UV-C light and sanitation spray, and stay abreast of all new developments regarding the most effective methods and products to employ 

Where possible, doors and windows will remain open to increase fresh air flow
OUR G TEAM
//TAKING EXTRA CARE OF OUR TEAM SO THEY CAN TAKE EXTRA CARE OF YOU
Employee temperature checks at the start of every shift

Employee training on COVID-19 safety and sanitation protocols 

Appropriate PPE for all staff

These new changes mean a lot for our staff. They may give you directions based around our health and safety guidelines. Please listen to them! 
THE GOODS
//EVERYTHING YOU NEED AND NOTHING YOU DON'T
Face masks, hand sanitizer, and COVID-19 information available for all guests upon check-in. And don't worry, we'll have extra gloves and alcohol wipes if you forgot yours

Removal of high-touch amenities (magazine, pens, notepads, etc.) from rooms. These items will be available upon request from the front desk. All single use or disposable items in rooms will be removed and disposed of following each guest

All laundry and linens cleaned following CDC issued guidelines
THE OPEN SPACE
//STAY SAFE WHILE OUT, ABOUT, AND AROUND
No Mask, No Go: Masks are mandatory in all common areas

Floor markers indicating safe distance for queuing 

Motion activated hand sanitizing dispenser upon entry

Physically distant configurations in public spaces

Room occupancy, to the extent possible, will be distributed evenly per floor to limit crowding in hallways & elevators

Social distancing will be enforced
THE GRACIOUS GUEST GUIDELINES
//BE OUR (RESPONSIBLE) GUEST, AND KEEP IT CUTE AND COURTEOUS FOR EVERYONE AROUND YOU
Practice physical distancing of at least six feet while in shared spaces

Limit person-to person contact

Wash hands frequently in accordance with CDC guidelines (we surely will) and use available sanitizing stations

Properly dispose of used PPE 

If you cough or sneeze, please do it into your elbow or a sleeve

Wear a mask when interacting with staff and in all public spaces. No mask, no go

This is all new for our G Family. Please be respectful and patient with our staff. Your wellness is our number one priority!
MEETINGS & EVENTS
//GROUP GATHERINGS DONE RIGHT
Revised floor plans & capacities to adhere to social distancing (6ft)

Hand sanitizer & PPE in meeting rooms available

Meeting rooms and equipment cleaned and sanitized before and after use

Signage in meeting rooms advising of protocol

THANK YOU FOR ALL THE LOVE. IT'S GONNA FEEL SO GOOD TO BE BACK.