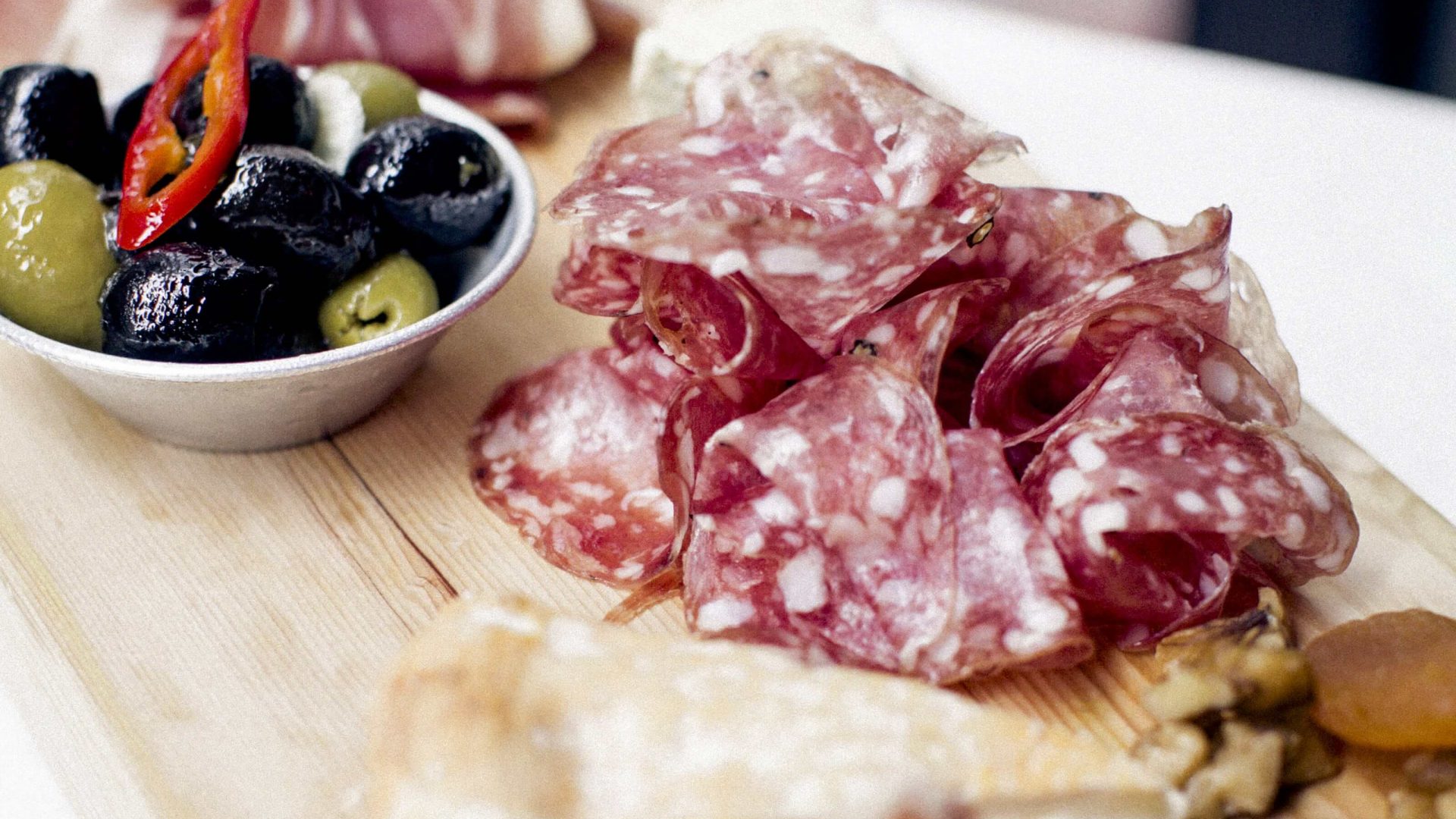 All Blog Articles
How to Create Your Own Charcuterie Board
April 20, 2021
Posted by: Hotels G
Planning to have an intimate get-together with friends at your place? Or looking to create an epic and highly instagrammable meal for your family? Why not have a go at putting together your own charcuterie board at home! Take your hosting and entertaining skills up a notch, using simple ingredients that require little prep work, but pack enough of a punch to impress your guests.
Getting started
Charcuterie and cheese boards are an art form that involves much more than placing some cold cuts, cheese and crackers on a plate and serving it to guests – along with having visual interest, a great board must also have a perfect balance of textures and flavours. Here are a couple of tips and tricks that might come in handy if you want to impress your guests with a stunning charcuterie board. Best of all, this doesn't require any cooking!
Firstly, if you're going to do it, you have to learn to say it right! Charcuterie, pronounced "Shahr-ku-tuh-ree", is the French term for cured meats such as ham, sausage, terrines, pâtés and more. Typically, charcuterie platters are served for 'aperitif', but make a great snack, starter, appetizer or party food any time of the day! There are no strict rules.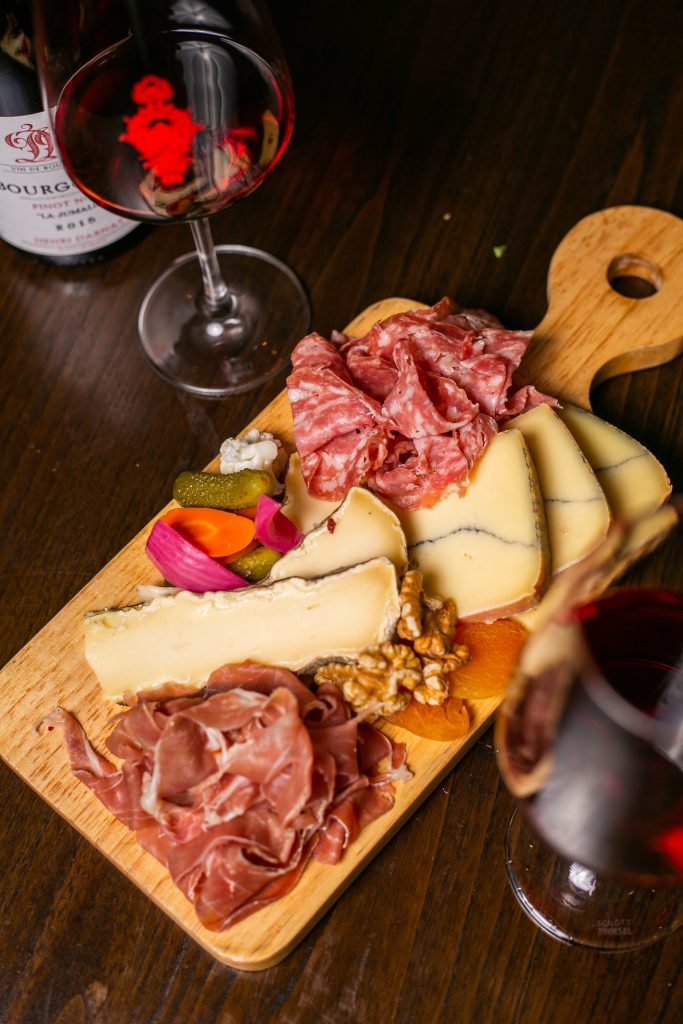 Some pointers to keep in mind:
Much like in art or photography, colour and composition is key when putting together a visually appealing charcuterie board. After all, we eat with our eyes first. An attractive presentation will only enhance the overall experience and make it even more pleasurable. Playing with different heights and textures is always a good idea, to ensure the overall display doesn't look flat or one-dimensional.
Aside from the star of the show – the cured meat and selection of cheese – don't neglect the supporting acts: the bread, condiments etc. Various crackers and bread are a great addition, so don't hesitate to include a variety of artisan crisps, crackers, and chips, to create varied options for your guests. Fruits, nuts and pickles are also great elements to scatter around your cold cuts and cheese and add a nice pop of colour. Get creative with colourful and delicious accoutrements!
Think about combining various elements of sweet, salty, sour, crispy, creamy and soft all together in one platter, to provide contrast and give options to your guests so they can create different combinations and customize their own perfect bite.
Choose your board carefully: a wooden board adds a touch of rustic charm, but you can also use slate or marble platters for a more modern look. Pick something that matches your personal taste and that suits the occasion.
Be strategic about the placement of each item. Larger items that are easier to pick up should be placed at the back of the board, whereas smaller items that require a bit more dexterity, such as pâté or spreads, should go near the front to make them easier to use and get at.
Last but not least, assemble your platter ahead of time. Refrigerating it after you've put it together, and then take it out 30 to 45 minutes before people arrive. This allows the meat and cheese to come to room temperature, ensuring you and your guests fully enjoy their nuanced flavours.
Expert Tips from Ginett's Chef de Cuisine
Before you start, what better way to learn more about how to DIY an insta-worthy Charcuterie board than speaking to someone who knows best? Here are some recommendations and pro tips by our Chef De Cuisine at Ginett Singapore, Chef Foong, on how to build the perfect charcuterie board.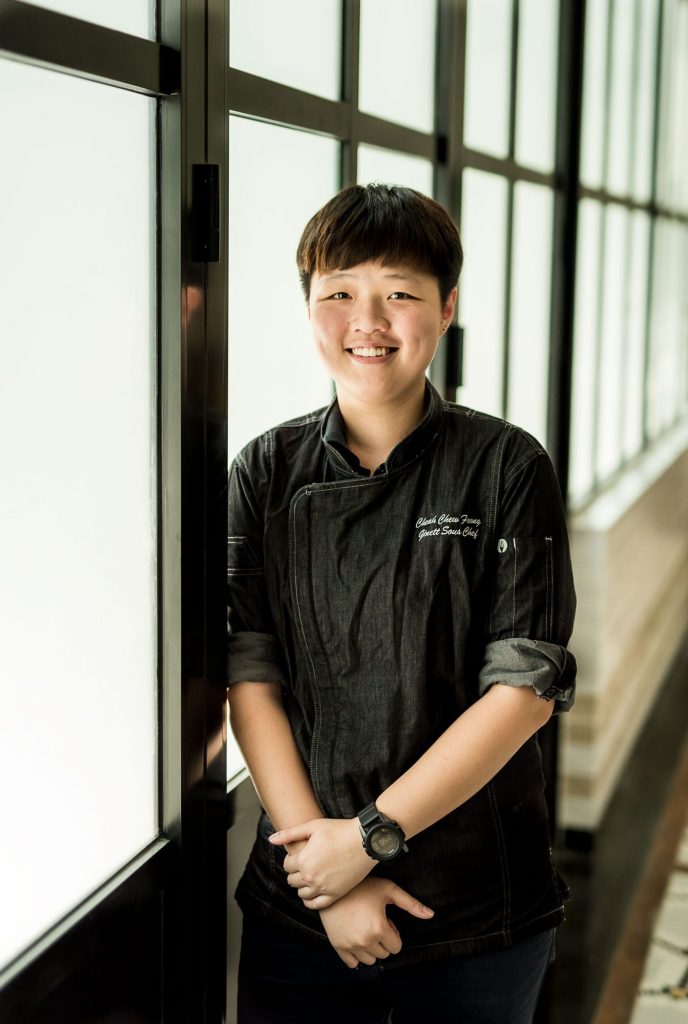 Any tips for people who want to try putting together their own charcuterie board?
Express your creativity and do what you feel is best. The best thing about making your own charcuterie board is that there are no set rules to what you put on it or how to eat it. In a way, the board is like your canvas and you are the artist. While charcuterie refers to a range of cured meat, a balanced board typically also includes various cheeses, crackers and fruits. Make it your own and use what you have. Essentially, you don't need to be the next Gordon Ramsey to prepare it!
If someone would like to include cheese on their DIY charcuterie board, what would you recommend?
For cheese, there are mainly three different categories: soft, semi-hard and hard. For soft mild cheese, Brie or Camembert would be my preferred choice. As for semi-hard, Tomme de Savoie gives off a fruity and nutty taste. For firm cheese, Comté or Mimolette are great choices. I would recommend actually being a bit adventurous and trying a variety of cheeses and not stick to the familiar few – each cheese has its own distinct flavours.
To you, what is the best part about creating a DIY charcuterie board?
The best part of it, to me, is that you can plate a great charcuterie board any way you want and enjoy it at any time of the day. Be it a light and simple board during breakfast to start your day off, a mid-day platter to share with your colleagues or as a colourful centrepiece during dinner gatherings. At Ginett, diners love to order our Signature 3 cheese, 3 cold cuts G-Board ($33++) or the 1-Metre board ($56++) of 5 cheeses, 5 cold cuts and a pâté at various times of the day.
Now that you have learned more about the ways to put together your own show-stopping charcuterie board, it's time to put these tips into practice and try it for yourself.
To make it easier for you, Ginett Singapore offers AOC cheese (Appellation d'Origine Controlee), a delicious range of cold cuts, house-made pâtés and terrines for home delivery on the three major delivery platforms in Singapore and also via pandamart. So just pick your favourite products, get creative and most importantly, have fun through the process!
Don't forget to check out Ginett's 'Cheese to Sunday' offer, available on Sundays from 4pm. It's the perfect way to end the week off with a tasty combination of cheese and wine! For every order of a 5-cheese platter, you will receive a complimentary bottle of wine. With 20 types of cheese to choose from, you'll be saying Cheese to Sunday!