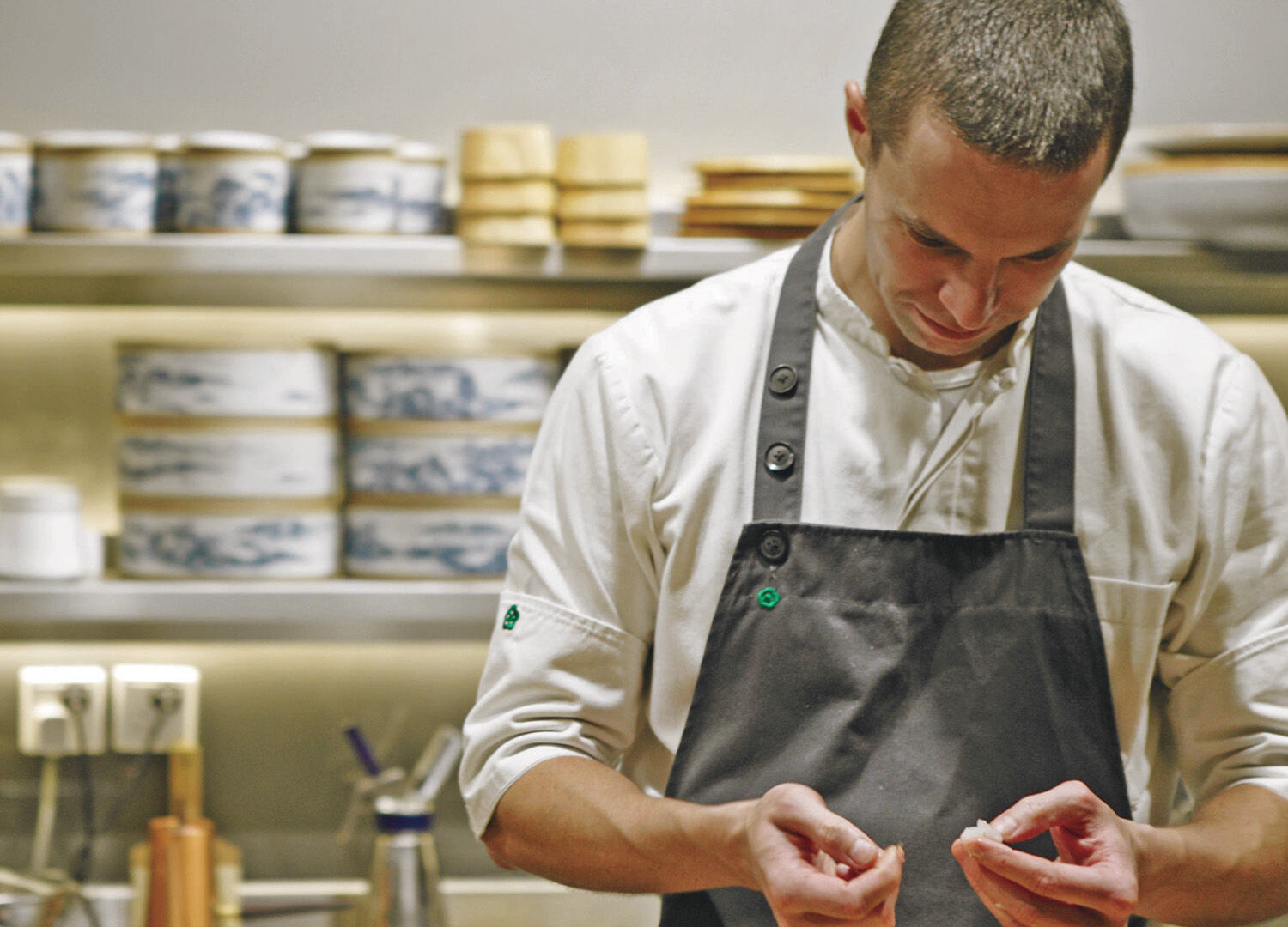 All Blog Articles
CHEF MAX LEVY
May 26, 2016
Posted by: Hotels G
"No. I won't change the music." Such emphatic strength of conviction may be the first thing to know about 37-year old, New Orleans-born sushi master Max Levy who recently opened the much talked about OKRA Hong Kong in the island's buzzy Sai Ying Pun district. Levy built a culinary empire in Beijing on a similarly intractable commitment to serving only the best or nothing at all. So, for anyone considering dining at his HK outpost, its worth noting that Levy's taste in tunes leans backwards from '60s psychedelic blues band The Moving Sidewalks to retro-punk legends like the Sex Pistols and Dead Kennedys and early Mainland Chinese rock stars Carsick Cars (围城) and New Pants (新裤子乐队).
Along with exploring the Chinese music scene, for more than a decade Levy has been stealthily collecting accolades in Beijing for his cross border cooking skills. "Even Japanese sushi masters cannot detect the surgically precise fish slicing comes not from the hand of a native son," said Conde Nast Traveler in 2006 about one this young 'gaijin' who came to China after serving behind some of New York's top sushi counters including Jewel Bako, Megu and Sushi Yasuda, a popular haunt for homesick Japanese posted to the United Nations headquarters nearby.
Levy's star continued to rise at Bei (Mandarin Chinese for 'North') in Beijing's Sanlitun neighbourhood, an innovative eatery designed by Neri & Hu which allowed the American chef to explore little known links between Japanese and Northern Chinese cuisine, though tasting menus he based around David Bowie songs. Soon after winning Time Out Beijing's Chef of the Year for the first time in 2009 (he would do so again in 2010 and 2011), Levy sidestepped to start a cocktail renaissance in the Chinese capital with his house-made spirits served alongside Creole inspired cuisine at Apothecary Cocktails and Dining.
The genre-bending chef stayed in Sanlitun to open his own contemporary Japanese restaurant OKRA 1949 in 2013 inside a former meat slicing factory located a dumpling's throw from where Residence G Beijing will open next year, as well as from Levy's other gourmet baby, the café/deli Traitor Zhou's Non-kosher Delicatessen. Here, Levy cures his own meats and sausages which he serves alongside China's tastiest, most authentic bagels and doughnuts. Levy's uncompromising attention to detail means occasionally going rogue when he cannot source the top quality ingredients required. Hence, there's no miso soup on the original OKRA's otherwise traditional Japanese menu.
For his first foray into the Hong Kong dining scene, Levy worked with rising Hong Kong design star Sean Dix inside a four-storey 1852 building which shares the street with Buddhist incense shops and Traditional Chinese Medicine herbalists. A dozen minimalist barstools line the ground floor kappo, or Japanese kitchen-bar, inside this sliver of an industrial style eatery, behind which you'll find Levy in the open kitchen alongside chef de cuisine Daniel Garner, formerly the executive chef of Nobu Beijing. That level of intimacy is intentional, designed to encourage connectivity over Unakyu Foie Gras house made with barbecued unagi, honey miso duck liver and seasoned rice vinegar called sanbaizu, and a Black Angus prime chuck tail flap seasoned with burnt olive oil, paired with impressive sake selection headlined by Kaze no More Akitsuho Junmai from Nara. Just don't ask him to turn that dial.